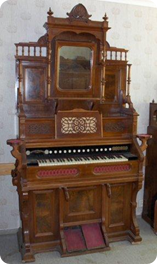 The exhibition in Klaverens Hus highlights 200 years of our piano culture. Around 70 instruments were crammed into four rooms, where instruments and factory images reflected a rich and multifaceted world with an innumerable number of models with different tonal properties and many varying external designs, which followed prevailing style ideals for furniture.
Here you could find magnificent exhibition instruments, made in a single copy, ostentatious salon organs with mirrors, shelves, knobs and imaginative decorations, as well as tasteful everyday instruments, straight chamber pianos in the spirit of Functionalism and simple school organs. There is room here for the many piano and organ factories in Arvika as well as for Johan Gustaf Malmsjö and his time, himself, his teacher and his workers. Seven 19th century grand pianos could be found in a magnificent row, some of them sounding, all of them rare.
The "Automatic corner" presented what we have of self-playing harmonies ("crank organs") and semi-automatics. Diplomas, medallions and photographs mainly from factories and production in Herrljunga, Arvika and Vänersborg/Landvetter remind of professional pride and craftsmanship in a lost world in a bygone era.
Klaverens Hus moved from Söderhamn in 2014, and found its new home in Lövstabruk in 2015.