A.N. Östlind, Parlour organ (harmonium), Arvika, nr 130, (1890) KH 145
Anders Nisson Östlind started his factory in Arvika in 1888, and initially ran it with a few workers. In 1891, merchant Anton Almquist joined the firm, and the company Östlind & Almquist was formed.
It is difficult to overview the production during these first years, as the first catalog came in 1891, when the new company presented itself to the market.
Organs with the signature A.N. Östlind Arvika are relatively uncommon. It is therefore with particular pleasure that we note that the organ has inscriptions in the form of worker signatures, which tell us something about how the division of labor in Östlind's first factory.
The organ is a small black-painted example with hand-painted, American-inspired gold decoration. Under the flap is the frame carpenter's signature: "Axel Edvin Edman Arvika A1". Behind the lowest keys are some very valuable notes on dating and construction. In the middle of the keyboard is the information "finnished" [sic], finished.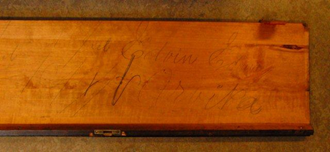 Håkan Nilsson or Henry Nelson, as he called himself after his years in the United States (where he learned organ building in Fort Wayne, Indiana) was Östlind's brother-in-law. It is reasonable to assume that he brought with him American methods of organising factory work. It is possible that some instruments parts are also imported goods from the USA. A larger oval stamp on the keyboard, which is now unfortunately illegible, indicates this.
Next to the name on the keyboard-flap there is also a proud statement "Patent". It concerns Östlind's patent no. 2497 "Anordning vid orglar" (Apparatus for organs) from 30 December 1889 and "afser vid orglar med tungor en anordning, hvarigenom tonfärgen kommer att likna den i en orgel med pipor" (concerning organs with reeds, a device whereby the tone color will be similar to that of an organ with pipes).