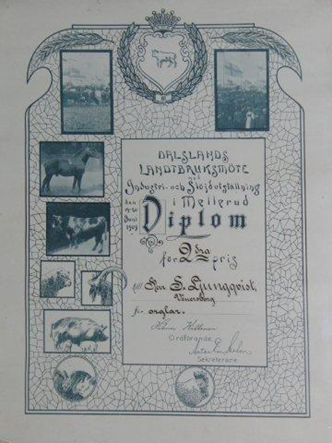 The picture archive in Klaverens Hus is relatively large and contains drawings for the instrument, as well as photographs and moving pictures, which convey aspects of our piano history that cannot be described in words.
We have a unique-in-Sweden collection of original full-scale drawings for a piano and a grand piano, for keyboards, and mechanics. They are part of Conny Carlsson's collection, Baumgardt's piano factory's collection, Bergling's piano factory's archive, and are located as an appendix to piano orders at Anders Sjögren's workshop in Herrljunga.
Even the collection of diplomas and medals awarded to Swedish factories at exhibitions here at home and at world exhibitions is unique in Sweden. Here you can find, among other things, the dozen diplomas from Malmsjö (1865-1928), the half dozen from C.B. Pettersson in Herrljunga (1907-1929) and occasionally from Joh. Hagdahl, S. Ljungqvist, J.P. Löfberg, Rålin, Östlind & Almquist and P.L. Åkerman.
From older photographs, there are factory buildings with identical interiors with different stages of manufacture, i.a. the series of Östlind & Almquist's production which were partly taken in 1899 to demonstrate that piano production had begun, partly for the 1909 catalogue. Larger series of production photos are also available from Baumgardts and S. Ljungqvist with, among others, glass plates for all of the factory's organ models. For particularly valuable pictures, there is a group photo of staff at Östlind & Almquist 1896-1948 with a list of names.
During 2017, a larger photograph from the 1890s by fabricator J.P. was added to the collections. Löfberg, Stockholm. It is a work picture, when he is wearing his leather apron sitting in front of one of his pianos.
Three films from Malmsjö's and Östlind & Almquist's factories from 1927 and 1936 are, as far as we know, unique. We also have certain video recordings, such as by fabricator Uno Bergling (Herrljunga municipality's collections).