Exhibition piano (upright), J.G. Malmsjö, Göteborg, nr 1634 (1865) KH 460
This grandly decorated piano from the J.G. Malmsjö factory with serial number 1634 (from the year 1865) is reportedly an exhibition instrument. Serial number and dating indicate that it was made for the Exhibition of Industry and Crafts in Malmö in 1865, where the factory received first prize (silver medal) "for excellent pianos." It may have also been shown at the General Industrial Exhibition in Stockholm in 1866, in which Malmsjö participated with a "Taffelpiano" (square piano) and a "Upprättstående Piano" (upright piano) (Officiell katalog p. 26).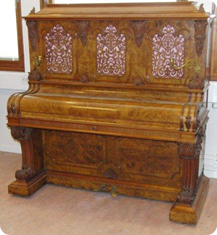 The piano is carved from walnut and studded with exquisitely worked fretwork on the three-part upper frame, birds and flowers on the key sides and knobs on the lid. It was likely designed by an architect and carved by professional sculptor.